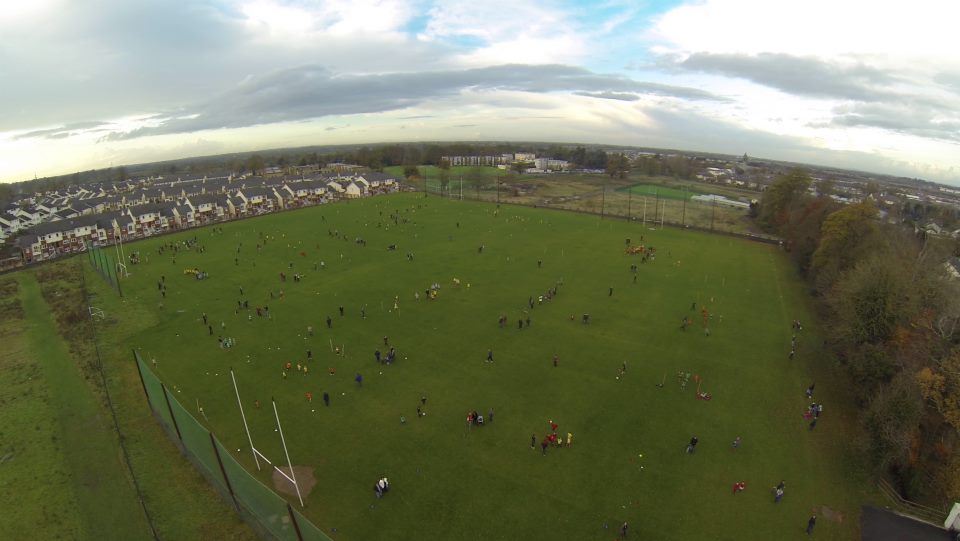 Dunboyne Minor Hurlers off to winning start
St. Peter's Dunboyne 2-13 Kildalkey 1-12
Competition:     Minor Hurling League Div 1
Opposition:        Kildalkey
Venue:                 Kildalkey
Date:                     Sunday 26th March
Both teams launched themselves into this game from the very start. The Dunboyne defence was on top from the very start which provided the foundation for a superb performance all around the field. With Daragh Gilmartin accurate as ever form placed balls and Cadhla McKenna, Peter O'Doherty and John Mitchell chipping in with scores, the sides were level on 7pts each at half time.
The second half started with Kildalkey on top coming at the Dunboyne defense in waves. The Dunboyne lads stood up manfully with Mark Delaney marshaling the fullback line. John Mitchell hurled superbly at number 6 ably abetted by Ronan Duggan with Peter O'Doherty sweeping up all around him as the extra defender.
Dunboyne fell 4 points behind with time running out when Sean Melia pounced on a loose ball to whip it to the net with a superb ground shot. The Dunboyne midfield were now on top with John Morris covering every blade of grass. Michael Farrell battled hard and was rewarded with a point. Daragh Gilmartin followed it up with a cracking point from an acute angle. After some great play from Dunboyne at the back, the ball was swept up field to Darragh Finlay who crossed it to Daragh Gilmartin where it was finished to the net.
A final push by Kildalkey was again repelled by the Dunboyne defense and the lads held on to win by 4pts. A great team performance.
Dunboyne: Cian Smyth, Con Greene, Mark Delaney, Joe McWeeney, Ronan Duggan, John Mitchell, Gavin O'Keeffe, Cadhla McKenna, John Morris, Peter O'Doherty, Daragh Gilmartin, Darragh Finlay, Michael Farrell, Sean Melia, Liam Murray, Sean Rooney.
Scorers:
Gilmartin 1-8
Melia 1-0
Farrell 0-2
O'Doherty, J. Mitchell, C. McKenna 0-1 each
Flying start for Under 12 Hurlers
St. Peter's Dunboyne 3-06 Clann Na nGael 0-01
Competition:                     U12 Div1 Hurling League
When:                                  26th March 2017, 12:30.
Where:                                Dunboyne, Castle Pitch 1
Opponents:                        Clann Na Gael (Athboy)
The U12 boys kicked off their season with a great 3:06 to 0:01 win over Clann NaGael in sunny conditions on Castle Pitch 1 today. It was a great game and both sides deserve great credit for serving up such a sporting and exciting game for the on-looking public. Dunboyne had the aid of a slight breeze in the first half and dominated possession but were met with a very dogged Clann NaGael full back line, breaking down attack after attack. John Harkin got the scoring under way on 5 minutes with a well taken point off his left and the same player hit the net 8 minutes later after some great link up play on the right wing. CnG came straight back up the field and pointed a well taken free. This point proved to be their only score of the match but they never gave up and made Dunboyne work all the way for their win. The half ended with Stephen Leonard getting a sweet point to leave the Yellow and black leading by 0:03 to 0:01.
The second half was only under way two minutes when John Harkin popped up again with another point, only to be followed by a bullet of a shot from Shane McCormack which hit the back of the net to put daylight between the teams. Shane split the posts again on 9 minutes with a well taken point. The Dunboyne lads were well on top at this stage. The defense were on lock down and hoovered up any ball the came their way, with Dan Boyd plucking balls out of the sky for fun at full back. Jack Fitz earned and scored a free on 18 minutes and 1 minute later Shane threw another one over. Ben Madigan scored an opportunist goal to bring the scoring to a close and a very satisfying days work for all involved. Next up away to Dunderry next weekend.
Team: Ronan Hayes; Dan Boyd; Jamie Gallagher; Cian Rohan; Cian Rohan; Cathal Melody; Jamie McCormack; Shane McCormack (1:02); Stephen Leonard (0:01); Jack Fitsimmons (0:01); Conor Murphy; John Harkin (1:02); Ben Madigan (1:0); Tommy Leonard;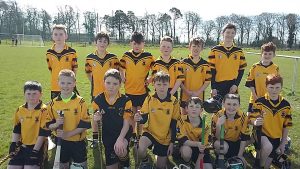 Last gasp save from Lynch helps Under 14 Ladies continue winning streak
Trim 6-04 Dunboyne 6-07
Competition:     Ladies Under 14 Division 6B
Opposition:        Trim
Venue:                 Trim
Date:                     Sunday 26th March
With lots of injuries and absences it was a bare minimum of 11 that took on a Trim squad big in numbers and size. The large pitch suited some of our athletes like Rachel Coleman and Rachel Norman who showed their skills and went on long carries the length of the pitch. The big spaces led to some players becoming isolated at times but with Sophia Barnes and Ellie Galvin tacking like tigers and with scores from Mia Conway and Lucy Eglington we dominated most of the first half playing into a stiff breeze.
However a poor 3 minutes before half time saw us changeover a point down. The wind helped matters and some great bursting runs by captain Ailbhe Kennedy and Alison McNulty set up some super scores by Ellen O'Beirne and Sadhbh O'Connor who also tackled one player at least 5 times in one move before guiding her over the sideline.
Trim to their credit kept on coming back and looked set to tie the game until Kate Lynch showed the reflexes of a cat to pull off a great save to keep them out. This was a really brave united performance by our 11 girls on a hot day with no subs who pulled out a very deserved win.
Squad: 1 Kate Lynch 2 Sophia Barnes 3 Ellie Galvin 4 Ellen O'Beirne 5 Sadhbh O'Connor 6 Rachel Norman 7 Rachel Coleman 8 Alison McNulty 9 Mia Conway 10 Lucy Eglington 11 Ailbhe Kennedy
Under 16 Ladies victorious
Dunboyne 7-13 Skryne 1-10
When:                Sunday 19th March, 2017
Competition:      Ladies Under 16 Spring League
Opponents:       Skryne
Venue:               Dunboyne, Castle Pitch 1
Dunboyne put in a superb performance this morning with a comfortable win over Skryne. Leading by 2-08 to 0-08 at half time, the girls pushed on to record a 7-13 to 1-10 victory.
Our Under 16 ladies had their second outing of the year this morning against a strong Skyrne team on the Castle pitch. On a wet morning for football, the girls gave  a superb display of determination and skill and won on a scoreline of 7.13 to 1.10.
Led by our captain Chloe O'Reilly, playing into a strong breeze, we led by 6 points at half time, 2.08 to.0.08.
With the wind at our backs, we took over in the second half and scored some excellent goals and points running out comfortable winners in the end.
All 24 players got game time and all played very well. Team and scorers as follows:
Roisin Gorey
Kate Reynolds
Eva Troy
Orla Kelly
Aoife Boylan
Chloe O'Reilly (c)
Amy Bermingham
Katie Bermingham
Aoife Delaney (2 pts)
Aideen Jones (1 pt)
Ciara Byrne
Keeley Thoma
Aoife Mc Cormack
Laura Furlong (4 gls 4 pts)
Roisin Lineen (2 gls  4pts)
Sarah Wall (1 gl 2 pts)
Leah Sheeran
Honor Hickey
Clodagh Williams
Ella Kelly
Ciara Martin
Rachel Farrell
Rachel Kavanagh
Jenny Kavanagh
Thats 2 from 2 for this very talented bunch of 15  & 16 year olds. The girls are training extremely hard and our next match is Wednesday week away to Royal Gaels.
Winning start for Senior Hurlers
St. Peter's Dunboyne 3-16 Kildalkey 3-15
When:               Saturday 18th March, 2017
Competition:     ACHL Division 1
Opponents:       Kildalkey
Venue:               Dunboyne, Castle Pitch 1
Dunboyne were slow off the mark in the Div 1 league game played at the Dunboyne Castle pitch and trailed Kildalkey by 1-6 to 2-8 at half time. Dunboyne's highlight of the opening half was an excellent team goal finished by Eoghan Ryan. The second half was much better from Dunboyne but it still took a late goal from Michael Dunne to seal the victory.
Team & Scorers – Paul Gannon, Liam Kane, Niall Watters, Jack Delaney, Alan Watters, Sean McGrath, Fergal O'Neill, Michael O'Grady, Sean Quigley(0-11), Eoghan Ryan(1-0), Stephen Moran(1-1), Sean Moran(0-1), Niall Smyth(0-1), Michael Dunne(1-2), Neil Hackett. Subs – Darren Dunne, Jamie Gilmartin, Daragh Gilmartin
Intermediate Hurlers also off to winning start
Blackhall Gaels 0-11 St. Peter's Dunboyne 3-11
When:               Saturday 18th March, 2017
Competition:     ACHL Division 2
Opponents:       Blackhall Gaels
Venue:               Kilcloon
With the aid of a strong breeze Dunboyne stormed into a 3-9 to 0-3 lead by half time in this Div 2 clash with Blackhall Gaels played at Kilcloon. While Dunboyne also found it difficult to score against the breeze in the second half, they were defensively very tight and ensured another clean sheet for keeper Paul Brady.
Team & Scorers – Paul Brady, Gavin O'Keeffe, Mark O'Connor, Mark Delaney, Keith Doyle(0-1), Darren Dunne(0-1), John Finlay, Jamie Gilmartin, Ciaran McKay(0-1), Jack Cox(1-4), Michael Reilly(0-1), Michael Farrell, Conor Gilmartin(1-1), Johnny O'Connor, Daragh Gilmartin(1-2). Subs – Conor Geoghegan, Andy O'Connor
Ladies Under 14 record another win in Division One
Walterstown 3-04 Dunboyne 3-10 
When:                Saturday 18th March, 2017
Competition:     Ladies Under 14 League Division 1
Opponents:       Walterstown
Venue:               Walterstown
Our latest trip in the u14 championship was away to Walterstown who had recently been successful in the U13 championship.
Dunboyne started well but struggled to convert the chances. A point by Niamh O Doherty got the Dunboyne girls underway but Walterstown hit back with a couple of scores of their own.
Rachel Kane and Katie Cagney added to the Dunboyne tally however a dubious penalty gave Walterstown a 1-2 to 4 points lead.
The second half started with Dunboyne on top but every point gained was cancelled out by a score from the opposition.
Leah Troy playing her first game after returning from injury started to find her rhythm with two well taken goals which were split by a high dropping ball that found the back of the net from Niamh O'Doherty. Walterstown hit back with goals of their own but Dunboyne had enough credit on the board to see the game out.
Squad
Amy O'Byrne, Cate Flanagan, Ciara Laffoy, Eimear Byrne, Elaoise Eager, Emma Stewart, Grace Donovan, Grainne Aylward, Hannah Nolan, Katie Cagney, Lara Murphy, Leah Troy, Lorna Walsh,  Louise Callens, Niamh O'Doherty, Nisha Patel, Rachel Kane, Rachel Michael, Saoirse Quinn, Shauna Finlay
Second half comeback not enough for Under 14 Ladies in Div 5
Dunboyne 3-04 Drumbaragh 5-09 
When:                Saturday 18th March, 2017
Competition:      Ladies Under 14 League Division 5
Opponents:       Drumbaragh
Venue:               Dunboyne, School Pitch
Another match, another tough opponent for our U14 Div 5 footballers.
Playing into the wind and with no subs, Dunboyne were up against it from the start. Drumbaragh dominated the play from the start, faster and stronger, shooting and rarely missing, half time came with Dunboyne trailing 4-9 to 1-0.
Taking to the pitch for the second half, commitment to teamwork proved the dominating force for Dunboyne. Tenacity from our back line kept the opposition's scoring at bay and with ten minutes to go saw Colleen Byrne, shred the opposition with a scorching goal. This display roused the players into a full on display of brilliant football, adding a further goal and 4 points to the final tally.
Dunboyne fight on….
Squad
1.Arwen O'Mahoney, 2.Eleanor Geoghan, 3.Ella Lyons (0-1), 4.Colleen Byrne (1-1), 5.Jessica Campbell, 6.Rebecca Keogh (0-1), 7. Sarah Kavanagh (1-0), 8.Grace Sheerin, 9.Rachel Daly, 10.Aoife Walsh (1-0), 11.Gemma O'Byrne (0-1), 12. Aobh Rooney
Third Under 14 Ladies Team turn in wonderful performance
Dunboyne 4-14 Drumbaragh 1-00 
When:                Saturday 18th March, 2017
Competition:      Ladies Under 14 League Division 5
Opponents:       Drumbaragh
Venue:               Dunboyne, School Pitch
Another great win by our girls all of whom put in a complete performance. A bright start got the scoreboard ticking over but there was a lull where our shooting went astray. The 3 Rach(a)els of Harkin Coleman and Norman totally dominated the middle of the park and with players like Ailbhe, Sadhbh and Alison hoovering up every ball at the back our opponents were restricted to 1 score into Kate's well defended goal.
There were some great long carries from Ellie and Ciara and super support running all over the park with superb scores from Ellen, Mia, Sophia and Faye. Tougher games lie ahead but this was a super performance by all.
1 Kate Lynch 2 Ailbhe Kennedy 3 Sadhbh O'Connor 4 Sophia Barnes 5 Rachael Harkin 6 Alison McNulty 7 Ciara McCoy 8 Rachel Norman 9 Mia Conway 10 Rachel Coleman 11 Ellie Galvin 12 Ellen O'Beirne 13 Faye Sommers
Junior A Footballers win away
St. Patrick's Stamullen 2-09 St. Peter's Dunboyne 2-10 
When:                  Monday 13th March, 2017
Competition:     Adult Football B League Division 1
Opponents:        St. Patrick's
Venue:                 Stamullen
Senior Footballers edge Wolfe Tones in thriller
St. Peter's Dunboyne 2-10 Wolfe Tones 1-12
When:                  Sunday 12th March, 2017
Competition:     Adult Senior Football  A League Division 1
Opponents:        Wolfe Tones
Venue:                 Castle Pitch 1, Dunboyne.
Dunboyne edged out Wolfe Tones in a keenly contested game at Castle Pitch 1 on Sunday afternoon. Dunboyne led by two points at half-time, but the weather conditions and Wolfe Tones' perseverance combined to keep the Dunboyne players under pressure until the end. A well taken goal from Niall Jones ultimately proved to be the winning of the game for Dunboyne.
Senior Ladies record big win
Dunboyne 5-11 Dee Rangers 4-5
When:                  Sunday 12th March, 2017
Competition:     Senior Ladies Football League Division 1
Opponents:        Dee Rangers
Venue:                 Castle Pitch 1, Dunboyne.
Dunboyne started very brightly racing into a 3pt lead, our first score was a very well taken point by Orla Flanagan.
Our lead was quickly cancelled out by a Dee Rangers goal.
We took the lead through a well worked goal with Julie Kavanagh applying the finish. But Dee Rangers came back to score their second goal and draw level.
Thanks to a Shelly Melia goal just before the break we went in ahead at HT 3 pts up .
HT Dunboyne 2-7 Dee Rangers 2-4
Dunboyne got exactly the start we wanted with a goal from the throw in through Vicki Wall, another Vicki point put us 7 pts ahead.
Full credit to Dee Rangers who responded with 2 goals in succession to bring the game back to level.
However Dunboyne responded very well with a goal from Rachel Mc Dermott.
Dunboyne pushed very hard for the last 10 minutes with a number of players leading from the front, including Beibhin Hickey, Shelly Melia, and Sarah Wall.
Dunboyne scored the final 1-3 without reply to secure the victory.
Other notables for Dunboyne were Alison o'Sullivan, Emma O 'Byrne Amy Coyne & Orla Flanagan FT Dunboyne 5-11 Dee Rangers 4-5
Dunboyne squad
1. Alison O'Sullivan
2. Meath O'Doherty
3. Emma O.Byrne
4. Claire Barker
5. Beibhin Hickey
6. Dee Blayney
7. Niamh Williams
8. Julie Kavanagh 1-1
9. Amy Coyne
10. Rachel Mc Dermott 1-1
11. Vicki Wall 2-6
12. Orla Flanagan 0-1
13. Niamh Mc Dermott 0-2
14. Shelly Melia 0-1
15. Ailing Flynn
16. Sarah Wall
17. Roisin O Doherty
18. Niamh Farrell
19. Chloe Coyne
20. Ruth Flood
21. Hollie Donnelly
Big win for Under 14 Girls
Dunboyne 4-13 Ratoath 4-02
When:                  Saturday 11th Feb, 2017
Competition:     U14 Ladies Football Division 6B
Opponents:        Ratoath
Venue:                 School Pitch, Dunboyne.
Our girls turned in a fine team performance against a big Ratoath outfit. With Ciara McCoy leading as captain every girl contributed to the team effort. We had lots of pressure in the first half but were slow to convert chances into scores.
Sadhbh  O'Connor won every ball in defence and with Aislinn Kelly bossing midfield our high skill level showed through in the second half. Some moves went the length of the pitch from keeper Ellie Galvin with Rachael Harkin nearly bursting the net and some super scores from Ruby McFeat and Faye Sommers amongst others. A very impressive start to our weather delayed league campaign.
1 Ellie Galvin 2 Ailbhe Kennedy 3 Sadhbh O'Connor 4 Mia Conway 5 Rachel Norman 6 Alison McNulty 7 Aislinn Kelly 8 Ciara McCoy 9 Kate Lynch 10 Niamh Sherlock 11 Lucy Eglington 12 Rachael Harkin 13 Ruby McFeat 14 Faye Sommers 15 Sophia Barnes
Ladies edged out at Stamullen
St. Patrick's 2-7 Dunboyne 0-11
When:                  Wednesday 8th March, 2017
Competition:     Adult Ladies Football League Division 4
Opponents:        St. Patrick's
Venue:                 Stamullen
Despite a spirited performance Dunboyne fell just short in their opening League match of the 2017 season. Played in Stamullen under lights in perfect conditions for football, both teams deserve credit for producing a very exciting, closely fought match. A shaky start to both halves proved to be Dunboyne's undoing. Conceding the first four points in the first half and two early goals in the second were hammer blows that proved too much to recover from. However, the Dunboyne girls never gave up the cause and good teamwork and intricate passing up front produced some excellent scores.  A couple of good goal chances towards the end of the match were missed, with a little more composure the Dunboyne girls could have sneaked the win.
Panel: Niamh McDermott, Roisin McGoldrick, Beibhinn Hickey, Meabh O'Doherty, Niamh Farrell, Anna O'Dwyer, Ali Monahan, Chloe Coyne, Aisling Flynn, Leanne Daly, Bronagh Moran, Orla Flanagan, Rachel McDermott, Margaret Leonard, Roisin O'Doherty, Clodagh McCarthy, Deimante Dapkute
Scorers: Orla Flanagan 0-6 Aisling Flynn 0-2 Leanne Daly 0-1 Margaret Leonard 0-1 Roisin O'Doherty 0-1
Close call at Castle Pitch 2 – Under 14 Ladies Championship
Dunboyne 4-10 Blessington 5-06
When:                  Friday 24th Feb, 2017
Competition:     U14 Ladies Football Championship
Opponents:        Seneschalstown
Venue:                 Castle Pitch 2, Dunboyne.
After storm Doris did its best to disrupt all sporting events in the club the U14 ladies took to the field to face Seneschalstown in the second round of the U14 Championship.
This was a typical story of a game of two halves with Dunboyne having the better of things in the first half only to be pegged back by the opposition in the second half.
Dunboyne took the game to Seneschalstown right from the start with well taken points from Shauna Finlay and Ciara Laffoy. As Dunboyne got control of the game three goals followed in quick succession by Katie Cagney , Rachel Kane and Shauna Finlay. Just before half time Seneschalstown started to get their rhythm and added some well taken points and a goal that dipped in under the bar.
Seneschalstown started the second half quickly and two well taken goals piled on the pressure on the Dunboyne girls. The tide seemed to be stemmed with a goal and a point from Niamh O Doherty however another goal and a well converted penalty by Seneschalstown put the pressure back on Dunboyne.
The home side were glad to hear the referee's final whistle as the managed to hang on for victory by a single point.
Team:
Amy O'Byrne, Cate Flanagan, Ciara Laffoy, Eimear Byrne, Elaoise Eager, Emma Stewart, Grace Donovan, Grainne Alyward, Hannah Nolan, Katie Cagney, Lara Murphy, Leah Troy, Lorna Walsh,  Louise Callens, Niamh O'Doherty, Nisha Patel, Rachel Kane, Rachel Michael, Saoirse Quinn, Shauna Finlay
A short trip for a great evening's sport – Under 9 Football Go Games
When:                  Friday 24th Feb, 2017
Competition:     U9 Football Go Games
Opponents:        St. Mary's Leixlip
Venue:                 Leixlip
Well done to our Under 9 group who travelled to Leixlip to play against St. Mary's on Friday night last. Our two teams played two matches each against strong opposition, and despite it being their first outing of the new season, they performed excellently, showing that they'd forgotten none of their skills over the break. A thoroughly enjoyable outing against our near neighbours.
McGoldrick saves the day – Under 13 Leinster League
St. Peter's Dunboyne 5-06 Blessington 1-06
When:                  Saturday 25th Feb, 2017
Competition:     U13 Leinster Football League. (Born 2004)
Opponents:        Blessington, Co. Wicklow.
Venue:                 Castle Pitch 2, Dunboyne.
While many sporting fixtures fell by the way side this afternoon, due to inclement weather conditions, that didn't stop our U13 footballers from maintaining their 100% record in the Leinster Football League. With an impressive victory over Simonstown already in the bag, the team defiantly went about accounting for a tidy Blessington outfit  on a score line of 5:6 to 1:6. Playing on a full size pitch, 15 versus 15 and 30 minutes a side is new for this group but they looked as if they have been doing it for years. The first 15 minutes were nip and tuck with nothing separating the sides, but two quick fire goals from Alex Reynolds midway through the first half, put daylight between the sides going in at the break. It wasn't all good news on the half hour though, with speed merchant Cian Smith and dual star Conor Leonard both failing to come out for the second half due to injury. St Peters went in at half time leading by 7 points, 3:4 to 1:3;
Blessington scored the first two points of the second half and began clawing back the deficit and certainly were having their purple patch. But then some inspired saves from Dunboyne Keeper turned the tide in favour of the Black and Amber. Cathal McGoldrick made 3 point blank saves in an inspiring 7 minutes of defensive play from the home team. It certainly was the turning point as from there on Dunboyne picked it up again and began working the umpire at the other end. They finished the half with another two goals, before Donal Dempsey got the score of the match with a sumptuous left foot effort from 30 yards after a great sequence of build up play. The final whistle went with St Peters winning by 12 points.
Great credit must be given to Kieran Carolan and his management team for the progress made with this group year to  date, and also to the mothers who presented a snack bag to players from both sides at the end of the match. It was a great way to end a very sporting tie.
Team: Cathal McGoldrick; Connell Martin; Ben Hughes; Peter Connolly; Cian Finlay; Luke Carolan; Cian Smith; David Mahon; Jack Kinlough; Max Donnelly; Evan McCrudden; Cillian Murphy; Alex Reynolds; Donal Dempsey; Matthew Ethan; Cathal Kissane; Conor Leonard;
Senior Footballers return to winning ways – Senior Football A League Division 1
Rathkenny 0-05 St. Peter's Dunboyne 4-11
When:                  Sunday 26th Feb, 2017
Competition:       Senior Football A League Division 1
Opponents:        Rathkenny
Venue:                 Rathkenny
Our Senior Footballers kick started their season with an impressive 4-11 to 0-05 win away to Rathkenny. Playing against a strong wind in the first half, Dunboyne led by a point at half time, by five points to four.
Dunboyne put in a blistering second half, racking up four goals and seven points, with Rathkenny only able to register a single point in reply.
Dunboyne's team and scorers:
The team lined out as follows
C. Flynn
J. McLoughlin
G. Timoney
C. O'Dwyer
S. Weston
S. Lavin
C. Lowndes
D. Gallagher
N. jones
R. McCarthy 1-07 (1f)
G. McCoy 1-00
D. McEntee
J. Daly 1-00
M. Dunne 0-02
R. Jones 0-02
Subs :
S. Moran for N. Jones
J. Meehan for C. O'Dwyer
B. Carolan for J. McLoughlin
N. Carolan 1-00 for M. Dunne
R. Fitz Maurice for R. Jones
A cold place to start! – Under 8 Football Go Games
When:                  Saturday 26th Feb, 2017
Competition:       Go Games Football
Opponents:        St. Patrick's
Venue:                 Stamullen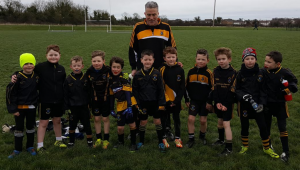 Our Under 8 panel travelled to a very windy and cold Stamullen to pit their skills against St. Patrick's on Saturday morning. In exceptionally difficult conditions, our boys showed no rustiness after the winter break. All of the skills were there on show, pickups, solos, hand passes and accurate kicking. There were very good performances from all of the boys, who quickly came to grips with the very awkward wind that blew across the pitch. Some excellent inter-team play and long range scoring were just some of the highlights of the morning. The future looks bright for this group! Well done to all.